Town Of Essex
.
Town Profile:
Download
Population:
6,730
Total Area:
11.8 Sq. Miles
Founded:
Sept. 13, 1852, as Old Saybrook; taken from Saybrook. Name changed, July 8, 1854 to Essex.
Principal Industries:
Novelties, naval lighting equipment and bent wire products.
Schools Profiles:
Essex Elementary School
Main Street, Centerbrook, CT 06409
John Winthrop Junior High School
Route 80, Deep River, CT 06417
Valley Regional High School
Kelsey Hill Road, Deep River, CT 06417
Medical Facilities:
Middlesex Hospital - Shoreline Medical Center
260 Westbrook Road
Essex, CT
Phone: (860) 358-3700
Web Site
Middlesex Hospital
28 Cresent St.
Middletown, CT 06457
Phone: (860) 344-6000
Web Site
Lawrence & Memorial Hospital
365 Montauk Ave.
New London, CT
Phone: (860) 442-0711
Web Site
Hospital of St. Raphael
1450 Chapel Street
New Haven, CT 06504
Phone: (203) 789-3000
Web Site
Yale-New Haven Hospital
20 York St
New Haven, CT 06504
Phone: (203) 688-4242
Web Site
Transportation:
Served by numerous motor common carriers.
Town's Web Site:
Town of Essex Web Site
Essex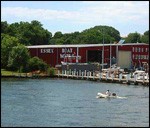 The Essex Boat Works & Marina on the Connecticut River.